This project was born out of a desire to provide the needy people of Nepal with an angling rod and to teach them how to fish, instead of 'feeding' them the fish. It aims to reduce dependency through helping disadvantaged people start their own micro businesses.
The project includes initial training, micro financial support and regular monitoring. Once the selected families understand the program and the possibility of creating self-sustainability, most of them decide on either starting a vegetable shop tea shop, having a small farm, raising cattle or taking up sewing training. Each family pays back a percentage of the initial investment money out of their profits, providing an added incentive for them to make their new business a success. Moreover, it is also focused on encourage for women entrepreneurship for financial independence.
Currently,42 families have been supported and a few more families are in the process of getting support under this program.
| Buffalo Farming | Cow Farming | Goat Farming | Chicken Farming | Tailor Business | Retail Business | Vegetable Farming | Total |
| --- | --- | --- | --- | --- | --- | --- | --- |
| 6 | 4 | 7 | 1 | 20 | 3 | 1 | 42 |
Impact of this program
A total of 42 successful entrepreneurs have been created from the poor families in a business like tailoring, livestock farming (cow/buffalo/chicken) and retail shops (tea/vegetable/cloth store).
This business opportunity has reduced financial dependency and has created sustainable income to help support the families.
It has helped give them a feeling of self-worth and has made them a productive part of society for their families and has supported them to adjust to the social culture and values of the region.
It has prevented some children from being abandoned and has been instrumental in helping to stop the cycle of single or widowed mothers some times running away in the night and going to another part of Nepal where they can begin a fresh life unencumbered by past relationships or children.
Photo Gallery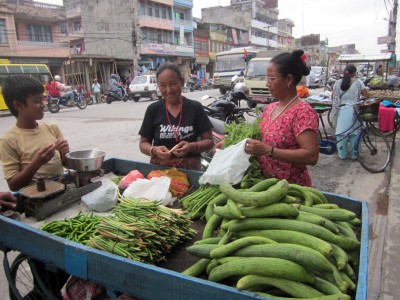 View All Pictures